1987 was a strange year for Brazilian football. Clubs were mad at their national FA (CBF) for various reasons, but the main one being that too many teams (80!) were competing; creating financial and organisational problems.
As a result, « the Club of 13 », formed by Corinthians, São Paulo, Santos, Palmeiras, Internacional, Grêmio, Atlético Mineiro, Cruzeiro, Vasco, Flamengo, Botafogo, Fluminense and Bahia, was created.
The objective was to untie the national championship from the CBF.
The new institution organised a championship unrelated to CBF, the controversial Copa União. The tournament was played by 13 founding teams, plus Santa Cruz, Coritiba and Goiás. The championship was a public success, with an average of almost 21,000 people per match.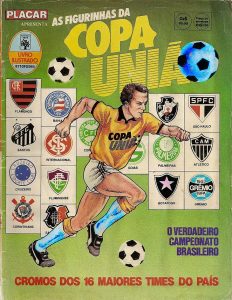 To make this tournament happen, sponsors (money) were needed. Varig subsidised the airline tickets for the clubs and Rede Globo paid a large sum to have the broadcast rights to the tournament.
But the most unusual was the sponsorship deal with Coca-Cola.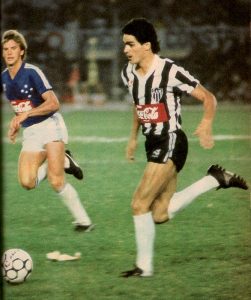 In return for their investment, Coca-Cola asked to have the brand's logo at the centre of all football pitches of the stadiums hosting the games. Fortunately, this was quickly banned by FIFA.
Besides that, Coca-Cola demanded to have their name printed on the shirts of almost all the clubs that competed with the competition, besides Corinthians, São Paulo, International, Santos and  Flamengo (who had contracts with other companies).
It was certainly not unrelated that Brazil's national team had a huge red Coca-Cola sponsor on their shirts vs. Chile that same year!