Sunday's Champions League final is novel in terms of the nationality match-up – not since 1976, when Bayern Munich secured a three-in-a-row by beating Saint-Etienne in the then-European Cup decider – have a German side played a French one in European football's showpiece occasion.
In recent times, Spanish clubs have tended to dominate: of the five finals from 2014-18 inclusive, they accounted seven of the final slots. By contrast, Italian teams have faded. Since AC Milan won the most recent of their seven titles in 2007, there have only been three final appearances by teams from the country – Internazionale's win in 2010 and defeats for Juventus in 2015 and 2017.
It's a far cry from the decade of 1989-98, when only one final – 1991 – didn't feature someone from Italy. There were more than a few memorable kits involved during that period and we look at them here.
1989 – Milan 4 Steaua Bucharest 0
The first time that both finalists wore change kits was in 1968, when Manchester United beat Benfica, and that didn't happen again until 1986 and Steaua Bucharest's victory against Barcelona, but there would be four more instances between then and 2000 (Real Madrid in black beating the orange-clad Valencia 3-0).
The next time after 1986 was three years later, again involving Steaua. While they wore white in defeating Barça on penalties, here they wore blue shirts with light-blue shorts and socks, all trimmed in red, as Milan wore white.
This game can be taken as the start of Milan's preference for white in the final – prior to this, they had two wins, in white against Benfica in 1963 and in stripes against Ajax in 1969. Two goals each from Ruud Gullit and Marco van Basten gave Arrigo Sacchi's side a comfortable win in Barcelona.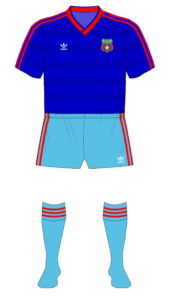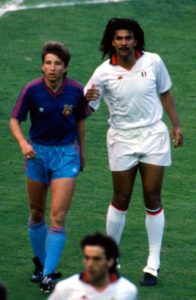 1990 – Milan 1 Benfica 0
While they relinquished their domestic crown to rivals Inter, Milan stayed on top in Europe, with Frank Rijkaard's goal the difference in the final in Vienna.
Again, Milan were in white shirts but, as with 1989, they were a special plain set rather than the 'normal' change kit, which had red and black horizontal bands. Benfica wore their traditional red jerseys but, as they had in their 1988 defeat to PSV, they wore red shorts.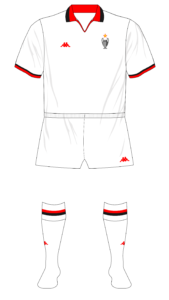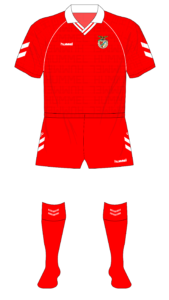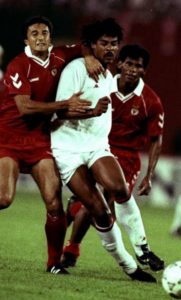 1992 – Barcelona 1 Sampdoria 0 (aet)
A controversial forfeiture against Marseille in 1990-91 meant Milan's three-in-a-row dreams came to ground and that season saw Sampdoria claim their first and only Serie A title.
With the European Cup operating a group phase for the first time, the Genovese side reached the final at the first attempt, coming up against Barcelona at Wembley.
As with the 1986 final – and the 1989 European Cup Winners' Cup decider between the two teams – both sides changed. Barcelona had worn light-blue shirts in 1986 and 1989, but for 1991-92 Meyba had provided Johan Cruyff's side with an orange change kit.
Samp's first Asics kit from 1990-92 had borne little difference to the previous Kappa strip but there they premiered their 1992-93 Asics away, complete with commemorative text – a rarity back then – but lacking the famous Baciccia crest. Ronald Koeman's extra-time free kick gave Barça their first title.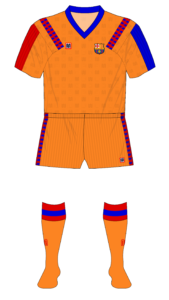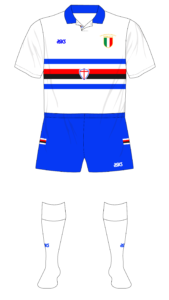 1993 – Marseille 1 Milan 0
The first season of the newly-branded Champions League saw Milan back in the final, but having to wear their home shirts as opponents Olympique de Marseille wore all-white.
Milan had switched from Kappa to adidas in 1990 but their strip was very un-adidas-like, with the three stripes only appearing on the black change socks worn in the final in Munich.
Now managed by Fabio Capello, they had the new Champions League sleeve patches but Marseille, who had an adidas Equipment design typical of that period, did not. Beaten by Red Star Belgrade on penalties in the Italy-free 1991 final, Raymond Goethals' side won thanks to Basile Boli's goal.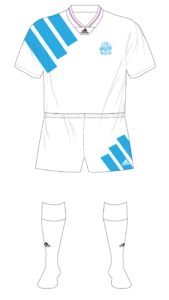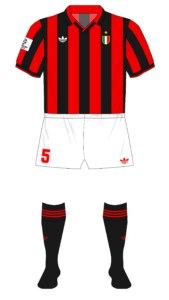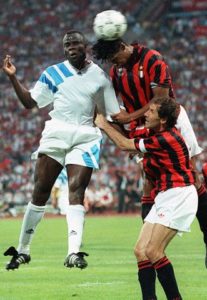 1994 – Milan 4 Barcelona 0
The dream final was expected to either be a tight win for the Milan side that had won Serie A by conceding 15 goals in 34 games but scoring just 36, or else a chance for Johan Cruyff's 'Dream Team' to run riot.
Again clad in white with Barça in their European kit, Milan – without their central defensive pairing of Franco Baresi and Alessandro Costacurta – produced one of the all-time great final performances. Daniele Massaro (two), Dejan Savićević and Marcel Desailly (a winner with Marseille the previous year) scored the goals in Athens.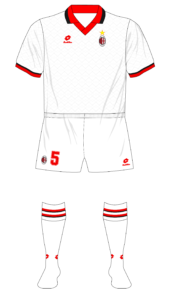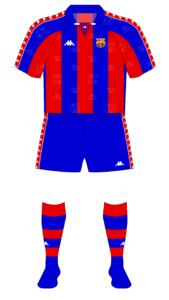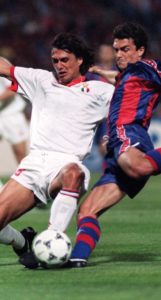 1995 – Ajax 1 Milan 0
Another decider with both teams in change kits – they had been in the same group and both changed in Milan but both wore home shirts in Amsterdam, Milan in black shorts and socks.
It was a first defeat wearing white in a final for Milan, with Patrick Kluivert coming off the bench to score the only goal in Vienna as Louis van Gaal's young side won Ajax's fourth title, following the three on the trot in 1971, 1972 and 1973.
This was the first final where teams were allowed to wear sponsors' logos – a previous agreement between Uefa and the European Broadcasting Union had prohibited it. Players also wore names on their shirts for the first time.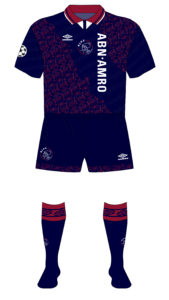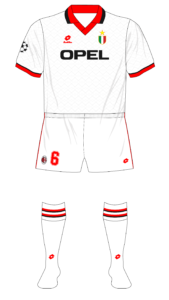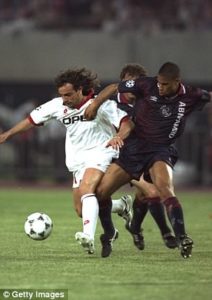 1996 – Juventus 1 Ajax 1 (aet, Juventus won 4-2 on penalties)
Ajax made it back to the final but the prospect of losing many of their stars on the new Bosman ruling loomed large.
They were able to wear their famous home style, while Juventus were in their second kit, the blue and yellow colour-scheme based on the civic colours of Turin. Fabrizio Ravanelli put them ahead but Jari Litmanen equalised and extra time couldn't separate the sides. Juventus prevailed on penalties in Rome.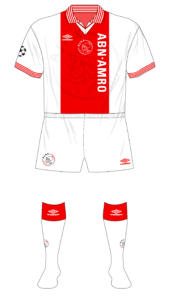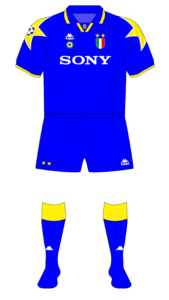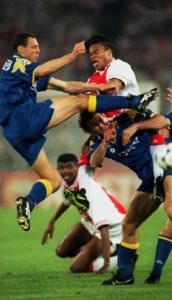 1997 – Borussia Dortmund 3 Juventus 1
This was the clubs' fourth European tie of the decade after the 1992-93 Uefa Cup final, 1994-95 Uefa Cup semi-final and 1995-96 Champions League group stage, and primary shirts had sufficed in the previous six games so presumably superstition was behind Juventus once again playing in their change kit.
The kit was similar to the previous year but updated slightly, while Dortmund had worn a striped shirt on the way to the final but decided to promote their 1997-98 strip. They would feature the die Continentale logo for the last time, with s.Oliver taking over as sponsors for the following season.
Dortmund got a great start in Munich as Karlheinz Riedle scored twice in the first half and, though Alessandro Del Piero pulled one back for Juve, sub Lars Ricken marked his arrival with a clinching third goal for Dortmund.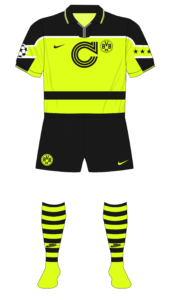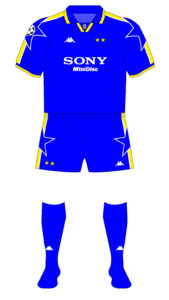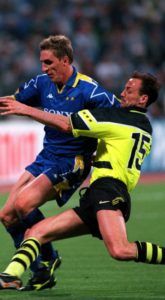 This would be the last appearance of an Italian team in the final until the meeting of Milan and Juventus in 2003.
On the face of it, this was more of a colour-clash than the previous year's final but Juventus's black shorts and socks provided sufficient differentiation to allow both sides wear their first-choice kits.
Real Madrid had won the first five finals from 1956-60 and triumphed again in 1966 but they had had to wait for their seventh title. It came in Amsterdam as Predrag Mijatović scored the winner. Los Merengues were wearing Kelme kits but their six wins since – 2000, 2002, 2014, 2016, 2017 and 2018 – have come in adidas strips.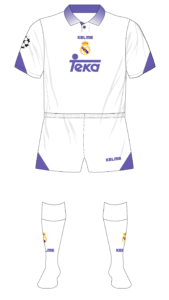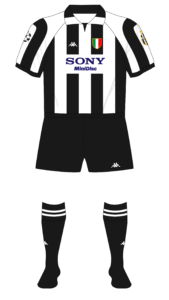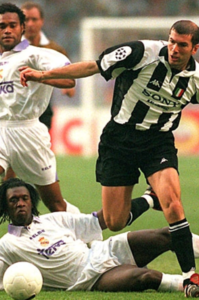 This blog was written by Museum of Jerseys. Please visit their website to read more interesting articles!